About BekaertDeslee
BekaertDeslee is a textile manufacturing company, specialising in ticking and jacquard-weaving mattress fabrics, and were founded in 1892. They are the global leader in their field, with production facilities & branches in all major markets. The company is still growing steadily. Earlier this year, they acquired Maxime Knitting, the largest mattress fabric manufacturer in North America. BekaertDeslee is a part of the Franz Haniel & Cie holding company, a family equity company.
Last time, we talked with polymer fibre company Dyneema® about building partnerships & measuring Scope 3 emissions. Today, we take a deep dive into the approach of the Waregem-based textiles company BekaertDeslee, the global leading manufacturer of fabric for mattresses. We're taken on a tour around their plans, ambitions and how they are preparing for the new EU regulations, guided by sustainability manager Charles Christiaens.
An idealistic teenager
Charles has a background in both bioengineering and business. "I was an idealistic teenager and have always been interested in sustainability and the environment. That's why I started studying bioengineering and specialised in environmental engineering. After my studies, I felt like I missed some broader orientation, so I also majored in business. This combination of a scientific background with a decent grip on economics and business management turned out to work quite well for my role."
Fourth most polluting industry
Producing large volumes of advanced fabrics in 26 production sites all over the world is a large operation by anyone's standard. And large operations have a large potential impact on the environment, for better or for worse, explains Charles: "The textile industry is the fourth most polluting industry in the world. And mattresses, the end product of our materials, are currently landfilled over 90% of the time. As a central player in this market, we can really have a big impact here. Though we mustn't get ahead of ourselves: making a sustainability shift in a market that isn't ready for these changes is, well, unsustainable.".
A challenging end product
Mattress fabrics are composed of a wide range of often hard to separate materials, which makes them hard to recycle. "Think about putting a composite textile with cotton, polyester, and elastane in a shredder – the stretchy, bonded nature of these fibres makes it hard to separate the materials. The moisture-rejecting coatings on mattresses also make it difficult to recuperate the materials. Furthermore, there are various ways in which our materials are attached to mattresses, often making our fabrics hard to separate from other materials.
All of this makes recycling mattresses very difficult today. "Areas such as transport & energy efficiency are important as well, obviously. But we mapped the impact of every aspect of our operation, and found that our largest potential gains lie in becoming a circular operation."
Generally, a mattress lasts between eight to ten years. As with all long-lasting products, it's rather difficult to know what will be recyclable by the end of the life cycle.
Charles sees this as both a challenge and an opportunity: "By today's standards, nothing we sell is sustainable. However, in five to ten years' time, the recycling tech will have evolved a lot. We need to anticipate these evolutions and adapt our production now. We are working with recycling companies and researchers to understand how we should prepare our products for recycling by the time their lifecycle ends, to understand the future needs of the recycling industry and take steps today."
8-10
Years
The life cycle of a general mattress is eight to 10 years, which makes it rather difficult to know what will be recyclable by the end of the life cycle.
0.0
Sustainability 0.0
Keeping a long-term perspective in mind and creating value to pass onto their next generation. That's also why sustainability thinking doesn't feel alien to our company
A company culture
Long term thinking isn't new for BekaertDeslee. As a family-owned company, there has always been a culture of anticipating the future. Their parent company's baseline, "Creating value for generations", reflects that very well. "The Haniel & Cie holding continues what the families Bekaert and Deslee have always done: keeping a long-term perspective in mind and creating value to pass onto their next generation. That's also why sustainability thinking doesn't feel alien to our company".
"Sustainability 0.0", as Charles puts it, has been a part of daily life at BekaertDeslee for quite some time. In their view, sustainable business models align very well with running family-owned companies. "From a production-engineering perspective, we're heavily optimised already. Using less materials, power and water is simply part of running an efficient operation. Safety and employee wellbeing is another big topic that is already ingrained in the DNA of BekaertDeslee. It might be less of a hot topic, but it is still a very important part of sustainable management, and part of simply running a good business. If you can't take care of your people today, how could you start taking care of the next generation?"
Thinking about circularity and the reduction of CO2 production is a more recent dynamic at BekaertDeslee. Nevertheless, the management encourages their people on the floor to take initiative. "We use a bottom-up approach. I'm convinced that the people in our business units are much better placed than I am to see opportunities and estimate the cost & feasibility of sustainability efforts. Most of our current projects started from the bottom up, initiated by people in our business units. I'm there to assist them, share my knowledge and steer our general direction. But I'm convinced that these impulses need to come from within for them to be actually sustainable."
I'm convinced that these impulses need to be bottom-up to be actually sustainable.

Charles Christiaens
CSRD: a serious challenge
BekaertDeslee has done a dry run to see how they fare with the upcoming European CSRD (Corporate Sustainability Reporting Directive) – and Charles did have some important take-aways: "Companies need to take these reports as seriously as they do their financial reporting. For example, a big part of creating an auditable report is making sure that your data system is fully error proof. Just manual input doesn't cut it." That means a lot of automation and putting data systems with feedback loops in place.
"But the biggest take-away for me is that an auditor will challenge you on every evolution or change that your numbers show. And you'll have to provide explanations for everything and be able back them up. Say, for example, that your staff turnover rate goes up. What is the cause exactly? And how can you prove with data that your analysis is correct? The answers are often complex and hard to quantify."
"The predictive aspect of the audit requirements is challenging as well", says Charles. "If you already have a safety-optimised operation, how do you predict how many accidents will still happen?" At the moment, these are big challenges for any company who needs to comply with the CSRD.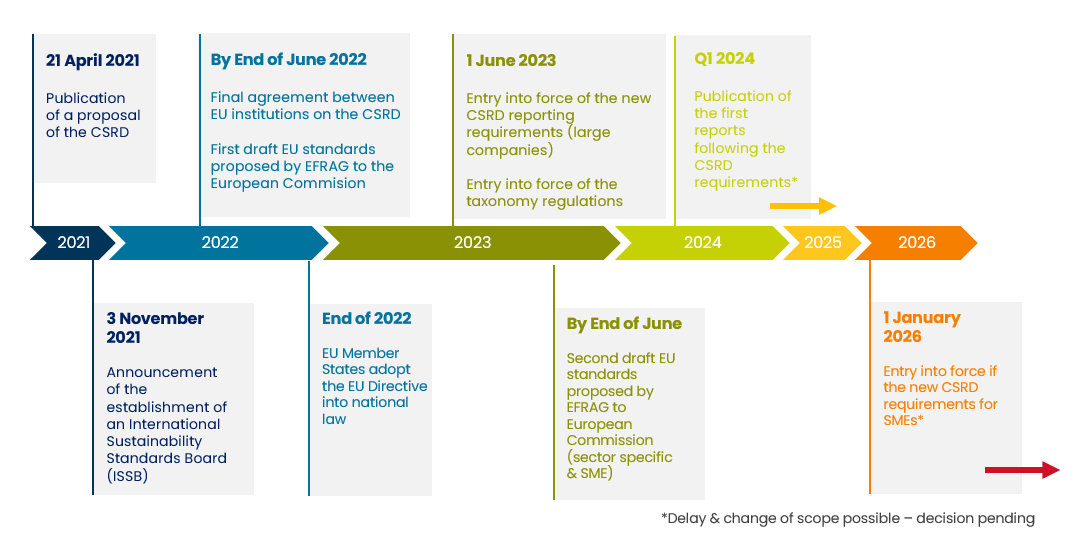 Some are calling the CSRD outlandishly strict, but Charles doesn't agree. "In general, these regulations are definitely necessary. If nobody's watching, nothing will change. Still, the European legislators need to keep talking to us, to the people in the field. We know what is feasible and what is unrealistic, and how these regulations affect our operations."
Reporting on scope 3 emissions is becoming easier, thanks to more transparent business practice. Inside the EU borders, most of BekaertDeslee's partners, clients and suppliers are already sharing the necessary data on their own emissions and products, making detailed reports possible. Outside of the EU however, Charles sees less progress. "Large discrepancies between markets are potentially problematic. The EU needs to make sure that these regulations and the way they're implemented don't pose a threat to the competitiveness of European businesses."
The early adoption of sustainability practices and igniting circular innovation could very well strengthen the position of the European production economy in the long run. Yet it's clear that the EU must be careful not to overstress companies today. We must make sure that everyone is able to get through this transitional era.
Digital innovations
Data capturing and measuring impact remains an extremely challenging area for many operations. Luckily, Charles doesn't have to start from zero: "We have a well built and integrated SAP, which makes my life easier. Measuring impact from production, or gathering data on power use, all that data is somewhere in our ERP system, in some form or another."
However, some of that data isn't always ready to use without manual processing. "We have a yearly budget that goes into reporting and for setting up and developing these data streams", explains Charles. For example, our waste output will be fully digitally monitored in the near future. Still, for a lot of metrics, manual actions are hard to escape.
AI-driven software can help
It's clear that there are huge opportunities in this area. AI-driven software can help with predictive reporting, filtering & merging data. This will help to bring the cost of sustainability reporting down. Charles agrees: "I think that new technology will need to enable automating more of these processes. At the moment, there are still a lot of Sharepoint files floating around."
Participate
Sustainable, attainable?
With the wrap-up of our interview session with sustainable experts within manufacturing, we're organising a round-table session with both sustainability managers and EU representatives alike. We're inviting you all to an afterwork session where representatives from the EU will share the vision of the Green and Blue deal and engage in conversation about questions and worries about the future of your sustainability strategy.
Register now to reserve your spot at the table, and ask away about reporting strategies, the impact on Europe's competitiveness or any other question.
This is a limited-seat event, aimed only at sustainability managers and peers, to keep the discussion insightful and allow for qualitative networking.